Anyone who looks at central bankers speak can sense the fear behind their absurd bravado, and the dishonesty of their public confidence.

The extraordinary disconnect between soaring stock markets and stagnating real economies has been gleefully embraced by all who benefit from the disconnect:
The financial media, brokerages, investment banks, politicos who have made stocks the barometer of "prosperity" and of course the top 5% who own roughly 3/4 of the financial assets of the nation.
Even more extraordinary is the rise in central bank fear that has unleashed extremes of monetary policy. If the real economy is as great as advertised, then why are central banks dropping monetary neutron bombs on a nearly weekly basis?


What are they so afraid of? And if they're not afraid of something, then why are they constantly hyping their threadbare commitment to "do whatever it takes," pushing real interest rates into negative territory and buying stocks and bonds hand over fist?


I've prepared a chart depicting central bank fear, the stock market and the real economy. As central bank fear/panic pushes higher, the banks have unleashed a torrent of PR and monetary programs that have dragged stocks higher with every phony pronouncement and every new free money for financiers chumming of the stock market.


No wonder the feeding frenzy never stops--the central banks are clearly terrified of what will happen should they stop dumping monetary chum in the waters.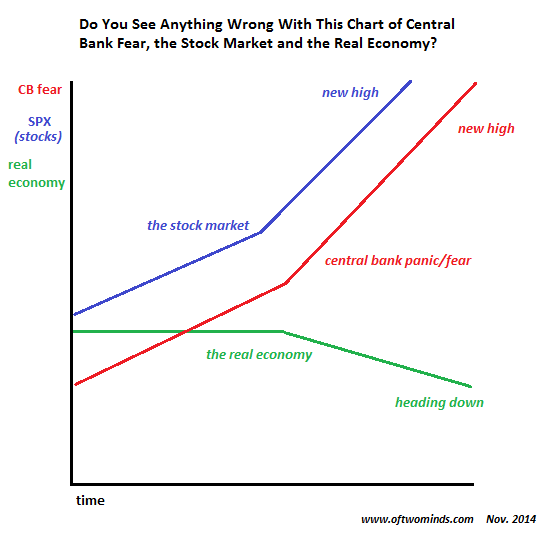 What is equally extraordinary is the abject failure of all the central banks' free money for financiers to move the needle of the real economy. Virtually every bright spot in the economy results not from organic growth but from the expansion of a new credit bubble: for example, subprime auto loans.


After tens of trillions of dollars in stimulus and trillions squandered on asset purchases to suppress interest rates and prop up the stock market, the real economies are drifting into recession or stagnation.
The central bank response to this abject failure? More free money for financiers.
Anyone who looks at central bankers speak can sense the fear behind their absurd bravado, and the dishonesty of their public confidence. They're not just afraid--they're in a panic. Every press conference and every announcement is supposed to express confidence, but what they really express is terror: terror that doing more of what failed spectacularly will not just stop working--it will trigger the collapse of the entire rotten, corrupt system of central banks and free money for financiers.


---
Get a Job, Build a Real Career and Defy a Bewildering Economy(Kindle, $9.95)(print, $20)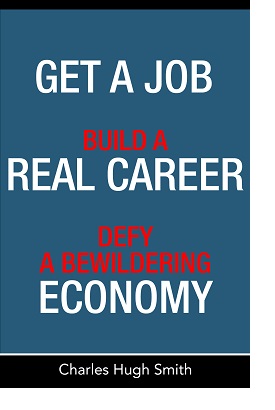 Are you like me? Ever since my first summer job decades ago, I've been chasing financial security. Not win-the-lottery, Bill Gates riches (although it would be nice!), but simply a feeling of financial control. I want my financial worries to if not disappear at least be manageable and comprehensible.
And like most of you, the way I've moved toward my goal has always hinged not just on having a job but a career.
You don't have to be a financial blogger to know that "having a job" and "having a career" do not mean the same thing today as they did when I first started swinging a hammer for a paycheck.
Even the basic concept "getting a job" has changed so radically that jobs--getting and keeping them, and the perceived lack of them--is the number one financial topic among friends, family and for that matter, complete strangers.
So I sat down and wrote this book: Get a Job, Build a Real Career and Defy a Bewildering Economy.
It details everything I've verified about employment and the economy, and lays out an action plan to get you employed.
I am proud of this book. It is the culmination of both my practical work experiences and my financial analysis, and it is a useful, practical, and clarifying read.
Test drive the first section and see for yourself. Kindle, $9.95 print, $20
"I want to thank you for creating your book Get a Job, Build a Real Career and Defy a Bewildering Economy. It is rare to find a person with a mind like yours, who can take a holistic systems view of things without being captured by specific perspectives or agendas. Your contribution to humanity is much appreciated."
Laura Y.
Gordon Long and I discuss The New Nature of Work: Jobs, Occupations & Careers(25 minutes, YouTube)
---
NOTE: Contributions/subscriptions are acknowledged in the order received. Your name and email remain confidential and will not be given to any other individual, company or agency.
| | | |
| --- | --- | --- |
| | Thank you, Blake T. ($40), for your superbly generous contribution to this site-- I am greatly honored by your steadfast support and readership. | |
Read more...